SUPPORT ARIZONA DERBY DAME CELESTE
February 14 2011




JANUARY 29, 2011 FINAL SCORES
January 31 2011

Final scores for Arizona Derby Dames games 1 and 2 of their 2011 banked track roller derby season, Saturday, January 29, 2011 at Arizona Veterans Memorial Coliseum.



Game 1
Coffin Draggers 105
Runaway Brides 86

Game 2
Bombshells 114
Schoolyard Scrappers 55



Next Arizona Derby Dames double header is Saturday, February 19, 2011 at Arizona Veterans Memorial Coliseum. Arizona Derby Dames all-star team the Hot Shots vs. L.A. Derby Dolls Fight Crew and Runaway Brides vs. Brutal Beauties.

ARIZONA DERBY DAMES UPDATED 2011 SEASON SCHEDULE
January 4 2011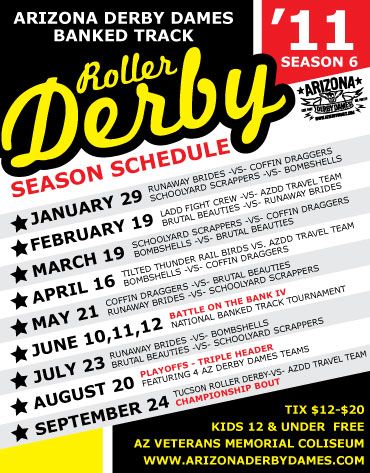 Schoolyard Scrappers Win Old School Flat Track Bout
December 12 2010

Thanks to everyone who came out for Arizona Derby Dames flat track bout Saturday December 11. Congrats to the winners the Schoolyard Scrappers.



Final score
Schoolyard Scrappers 90
Coffin Draggers 78

COFFIN DRAGGERS 2010 ARIZONA DERBY DAMES BANKED TRACK ROLLER DERBY CHAMPIONS
September 26 2010

Congratulations for the Coffin Draggers who are the 2010 Arizona Derby Dames banked track roller derby champions!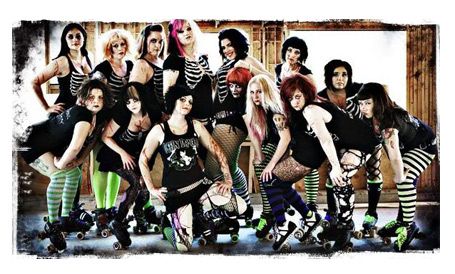 Final Score for September 25, 2010 Championship game:

Coffin Draggers 96
Schoolyard Scrappers 81



<< Previous 1 2 3 4 5 6 7 8 9 10 Next >>



BACK TO MAIN