ARIZONA DERBY DAMES DOUBLE HEADER MARCH 19th
March 11 2011
ARIZONA DERBY DAMES BANKED TRACK ROLLER DERBY
Coffin Draggers vs. Schoolyard Scrappers
Brutal Beauties vs. Bombshells
Saturday, March 19th at Arizona Veterans Memorial Coliseum
Phoenix, AZ (March 10). Arizona Derby Dames 2011 season is well underway as they offer up games 5 and 6 of the regular season on Saturday, March 19th at Arizona Veterans Memorial Coliseum on the Arizona State Fairgrounds in Phoenix. Always bringing you double-header banked track roller derby action for just $12 to $20 (with kids 12 and under general admission seating always FREE); March's event will feature the Coffin Draggers vs. the Schoolyard Scrappers and the Brutal Beauties vs. the Bombshells.
In September 2010, the undefeated Schoolyard Scrappers fell to the Coffin Draggers in the 2010 Championship game. This rematch sees a much different Scrappers team due to veterans retiring at the end of 2010. Led by new captain Mizz Nashty and new co-captain Bad Betty (previous Schoolyard Scrappers captain and co-captain Rowdy Roulette and Frankie Fitz mixed it up and went to the Runaway Brides for the 2011 season), the Schoolyard Scrappers are full of fresh faces, including four rookies playing their first game: Slam Helliot, Fussy Britches, Slugger Stardust and Strike Her Down. The Coffin Draggers hold on to their rock steady line up led by captain and co-captain Lora Stabs and Ginger Mortis, with the addition of one rookie, Jukulele Trebelmaker. For the second game of the night, the Bombshells and the Brutal Beauties, too, each welcomes a couple of rookies for this game. Kali Swag and Missed Her Hyde make their debuts as Bombshells while Smacaroni N' Cheez and Skulz Out join the Brutal Beauties.
Arizona Veterans Memorial Coliseum is located at 1826 W. McDowell Rd., Phoenix, AZ 85007 (602-252-6771). Doors will open at 5:00 p.m. with the bouts starting at 7:00 p.m. On March 19th, the Arizona State Fair Bar & Grill on the lower level of the Coliseum will open at 5 p.m. for dinner before the bout. General admission tickets for the stadium seats in the Coliseum will be $12. Two hundred general admission tickets are available for standing room on the floor around the track for $12. General admission for children 12 and under is free. VIP tiered seating right off the floor (with access to a nearby VIP only bar and restrooms) will be $20 for adults and children. Parking will be $7. Tickets will be on sale the day of the event at the Coliseum box office starting at 4 p.m. Advance tickets may be purchased until 2 p.m. on March 18th at tickets.arizonaderbydames.com where group discounts are also available. Stick around for the after party right inside the Coliseum at the Arizona State Fair Bar & Grill. There will be live music by the Cosmeticators. Meet with the Arizona Derby Dames over some great food and drink and discuss the night's bouts. All ages are welcome, but you must be over 21 to be served at the bar.
Now that Arizona Derby Dames trainees (Fresh Meat) have passed their skills tests and graduated to rookie status, that means it's time once again for Arizona Derby Dames try outs. Ladies who think they have what it takes to skate with Arizona's only banked track roller derby league, can come to Great Skate at 10054 N. 43rd Avenue in Glendale on Sunday, March 27th from 10 a.m. until noon to try out for the Arizona Derby Dames. Try out fee is $5, with skate rental being additional. Some skating experience and basic knowledge of the game of roller derby is preferred. More information available at www.arizonaderbydames.com "BECOME A ROLLERGIRL" page.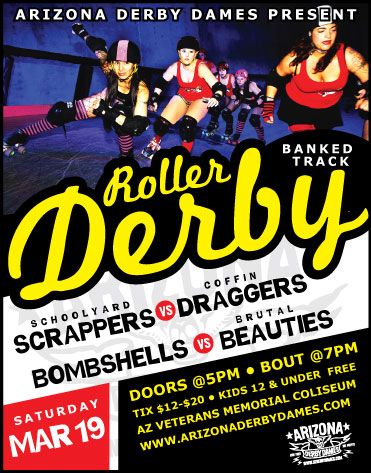 << Previous 1 2 3 4 5 6 7 8 9 10 11 12 13 14 15 16 17 18 19 20 21 22 23 24 25 26 27 28 29 30 31 32 33 34 35 36 37 38 39 40 41 42 43 44 45 46 47 48 49 Next >>