Arizona Derby Dames 2012 Season Banked Track Roller Derby Season Opener Brutal Beauties vs. Runaway Brides and Bombshells vs. Coffin Draggers
November 28 2011
The Arizona Derby Dames return to the coliseum to fight for position for the 2012 season. Teams compete throughout the season for top stats rankings, and the chance to move directly into the championship game by ending the season in first place. Second ranked team in 2011, the Runaway Brides, take on the Brutal Beauties; and the 2011 champions, the Coffin Draggers, compete against the Bombshells.
"The best part about this game is that we are playing the Draggers in the season opener. Over the last couple years a bit of a rivalry has developed between the Bombshells and the Draggers because this skill level of the competition is so high and the two teams are the two most competitive in the league. The games between our two teams are always very exciting and generally very close in score. Of course I want to win, but no matter what happens I skate away thinking, 'Damn, that was some good derby!'" said captain of the Bombshells, Lady Lawless.
Lora Stabs, captain of the Coffin Draggers confirmed on behalf of her team, what they are looking forward to this season, "I don't know…we like winning."
The first bout, the Brutal Beauties versus the Runaway Brides, offers the chance for fans to see top jammer, Ellie Mayhem of the Runaway Brides, skillfully pass the opposing players. Ellie Mayhem held the top points-per-jam average for the 2011 season. The second bout showcases Cannibelle Corpse of the Coffin Draggers, awarded hardest hitter, best booty blocker, and best take-out in 2011. These girls bring top skills to the sport of roller derby.
Arizona Veterans Memorial Coliseum is located at 1826 W. McDowell Rd., Phoenix, AZ 85007 (602-252-6771). Doors will open at 5:00 p.m. with the bouts starting at 7:00 p.m. General admission tickets for the stadium seats in the Coliseum will be $12. Two hundred general admission tickets are available for standing room on the floor around the track for $12. General admission for children 12 and under is free. VIP tiered seating right off the floor (with access to a nearby VIP only bar and restrooms) will be $20 for adults and children. Parking will be $7. Tickets will be on sale the day of the event at the Coliseum box office starting at 4 p.m. Advance tickets may be purchased until 2 p.m. on rd at tickets.arizonaderbydames.com where group discounts are also available. Follow the Derby Dames to Chopper John's at 2547 E Indian School Road for their 21 and older after party immediately following the bouts.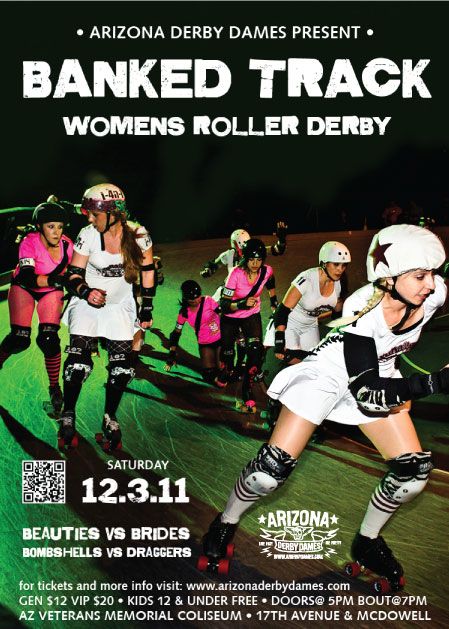 << Previous 1 2 3 4 5 6 7 8 9 10 11 12 13 14 15 16 17 18 19 20 21 22 23 24 25 26 27 28 29 30 31 32 33 34 35 36 37 38 39 40 41 42 43 44 45 46 47 48 49 Next >>